A hearty welcome on Sasek TV! On Sasek TV there
are 64 videos in the English language available.
Gesamttreffen März 2022 - Unlimitierte Kraft Unlimited Power - Part 1 of a sermon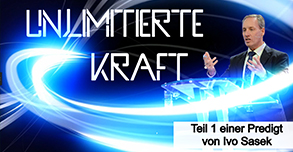 Want to learn about the other 9 power limiters? Sign up for an evaluation or to contact OCG co-workers at www.ocg.life/kontakt.
Visitors Day 2009 - Visitors day 2009 – Sermon


The message of the visitor day from 28th November 2009 of Ivo Sasek, "Revolution of Discernment" – The red-hot measuring criterion in the hand of a maturely thinking people heralds the beginning of the age of discernment.
The Mystery of God- The Mystery of God - educational movie in English


The movie deals with the biggest of all mysteries – revealed to mankind by God, but before hidden for millenniums. It conveys about 100 different spiritual realities. It is worth it to listen attentively. With more than 500 performers from 6 countries.
Lemuel Lemuel – Musical


Three angels from the orient discover twelve new stars in a starlit night, a new sun and a new moon. They identify in this appearance the coming of something more than just a king and savior – a complete dynasty, an entire people of salvation! The search for this people leads them over the mountain of God guarded by a fiery red dragon to the seven thunders up to Lemuel…
Hell in Heaven Hell in Heaven – Movie


The adventure of an inseparable love: having escaped from the hell of her severe Christian fundamentalistic parental home Lu teams up with Phil, a tough atheistic revolutionary.